Win a Cruise for Two Referral Contest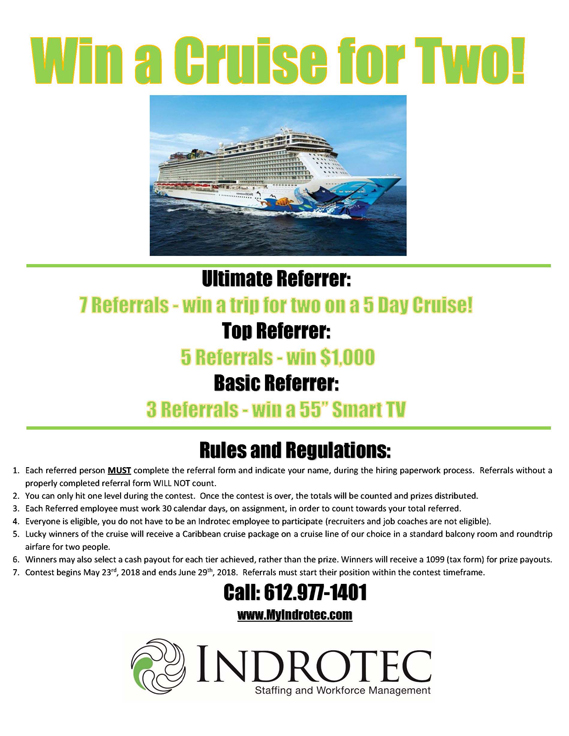 Win a Cruise for Two in our Referral Contest
We are so excited to announce a new referral contest with multiple prizes based on how many new employees you refer. Rules and Regulations can be found in the flyer here. More info can also be found on this job posting
Prizes include:
7 Referrals - win a trip for two on a 5 Day Cruise!
5 Referrals - Win $1,000
3 Referrals - Win a 55" Smart TV
As the leading temp agency located in Minneapolis, we always have a variety of industrial positions available on all three shifts including: assembly line jobs, manufacturing jobs, warehouse jobs, medical assembly jobs, CNC machinist jobs, packaging jobs and many other temporary and temp-to-perm jobs in Minneapolis and suburbs throughout the Twin Cities.
We offer excellent wages, a unique employee benefits plan and job training programs are available to those who qualify. When you apply for work, there are no registration fees and candidates will be guided through the application process by one of our friendly and helpful staffing representatives.
Do you know someone that is looking for an opportunity to get their foot in the door at such companies as Medtronic, Hennepin County Medical Center, Children's Hospital, St. Paul Public Schools, or Minneapolis Public Schools? These are just a few of the clients we work with to find our employees' their next career!
We are a unique staffing agency that focuses on placing our employees with the company that fits them best, at the same time we work with our employees to get them hired on permanently! We are not just filling positions we are finding career passions and places our employees want to be long term in the future. It is key to our success to place our employees where they will thrive and grow!
If you or someone you know have the job skills, a proven work history, and want to work at some of Minnesota's most recognizable companies, then Indrotec Staffing and Workforce Management just may be the right choice for you. We invite you to submit your resume; online today. Or, if you'd like to speak directly to an Indrotec Staffing and Workforce Management staffing representative, please call us at 612.977.1401